REFERENCE GUIDE 2022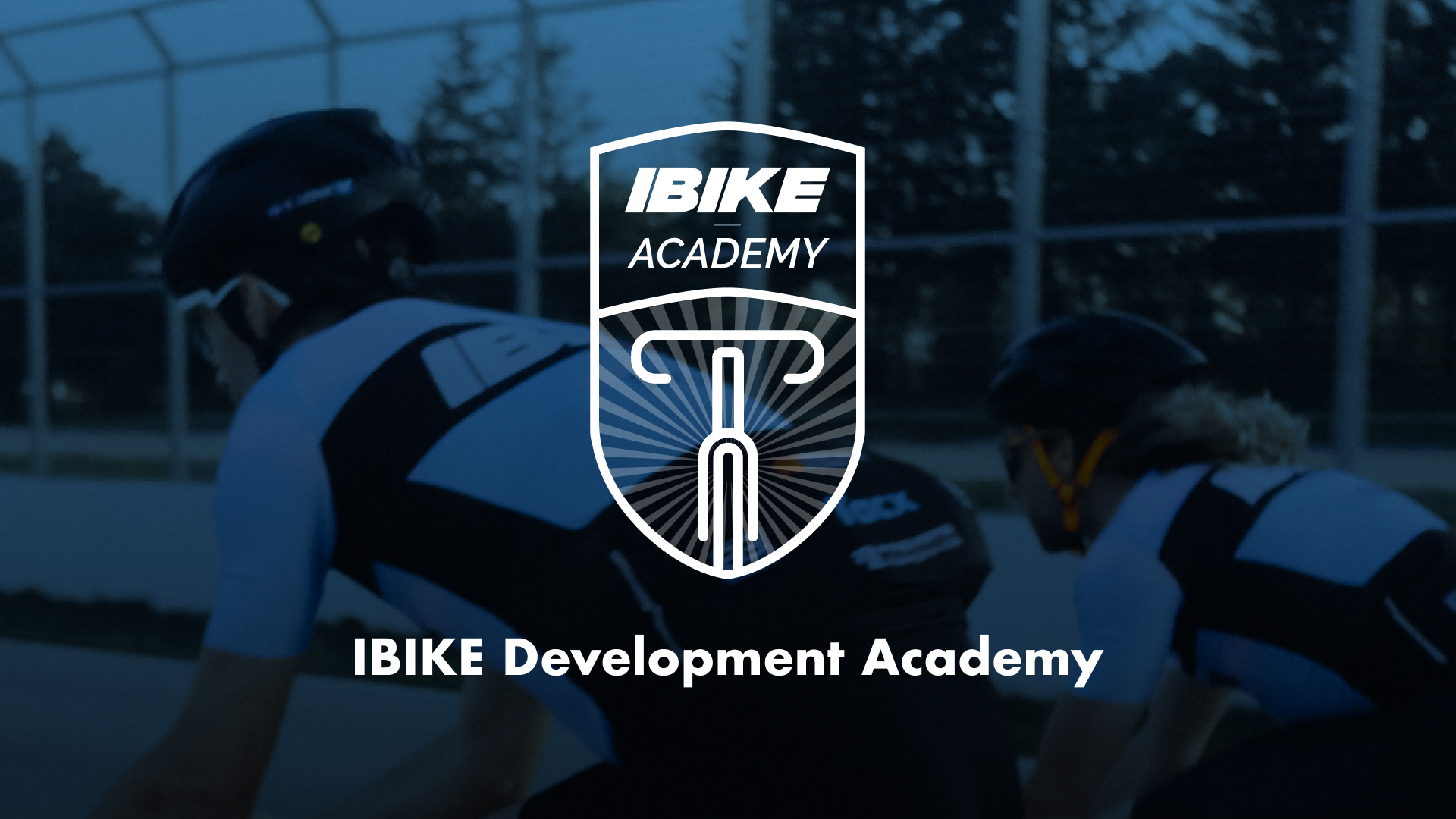 IBIKE Academy
The IBIKE Development Academy is a program that will help aspiring cyclists develop the skills needed to progress as cyclists and confident members of the cycling community. Practice, performance, pleasure.
- we will transmit our passion for cycling by passing on our years of knowledge and experience on nutrition, training, planning and organization needed to progress
- we will give riders all the tools needed to reach their limits - training plans, mental strength and equipment
- number one goal is pleasure – we will explore multiple cycling disciplines during group training's, training camps and specific clinics
- Our Academy will be a stepping stone for any direction – pleasure, amature competition or professional ambitions. 
The programs mission: Equal opportunity and accessibility for all with zero tolerance for discrimination or racism. IBIKE Academy will create programs that facilitate accessibility of cycling ensuring a diversified peloton reflective of our society. The IBIKE Academy dream is to develop as many young cyclists as possible in pursuit of a growing community.
For the junior and under 23 categories, the program will favour athletes from other sports that have been blocked from higher level competition due to the financial burden associated. We want to create a space where all cyclists will have the opportunity to amplify the proverbial snowball effect. The IBIKE snowball is rolling and it is our ambition to ensure the youth, the future, are also behind the snowball and pushing with all their might! If we train them well they will one day push exponentially harder than we are today. Be part of the mission in whatever way you can. Donate, volunteer, follow, like, share or simply talk about us. Every small gesture is appreciated. Thanks in advance for your contribution. Together we are more.
Who are we?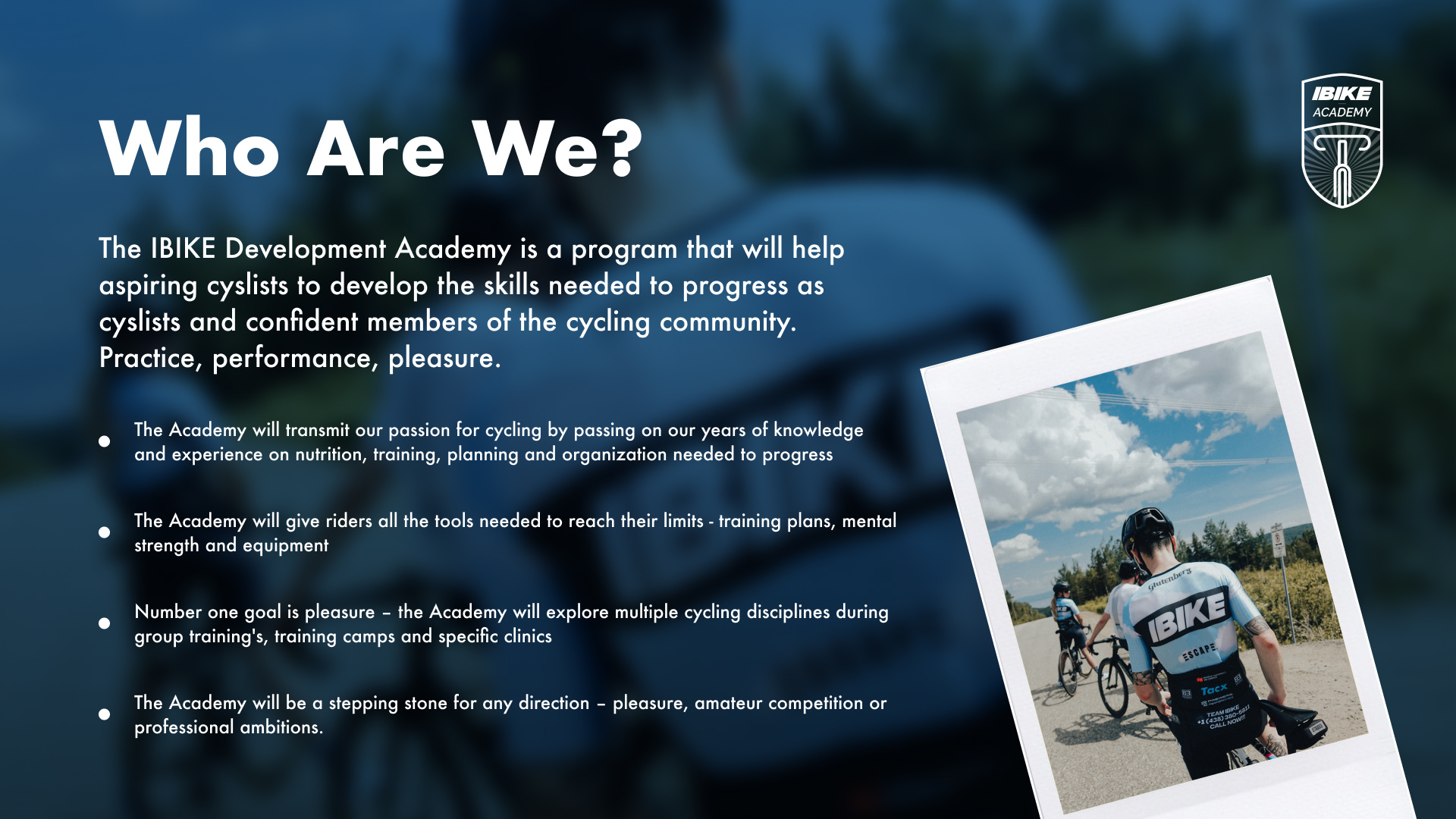 3 Words....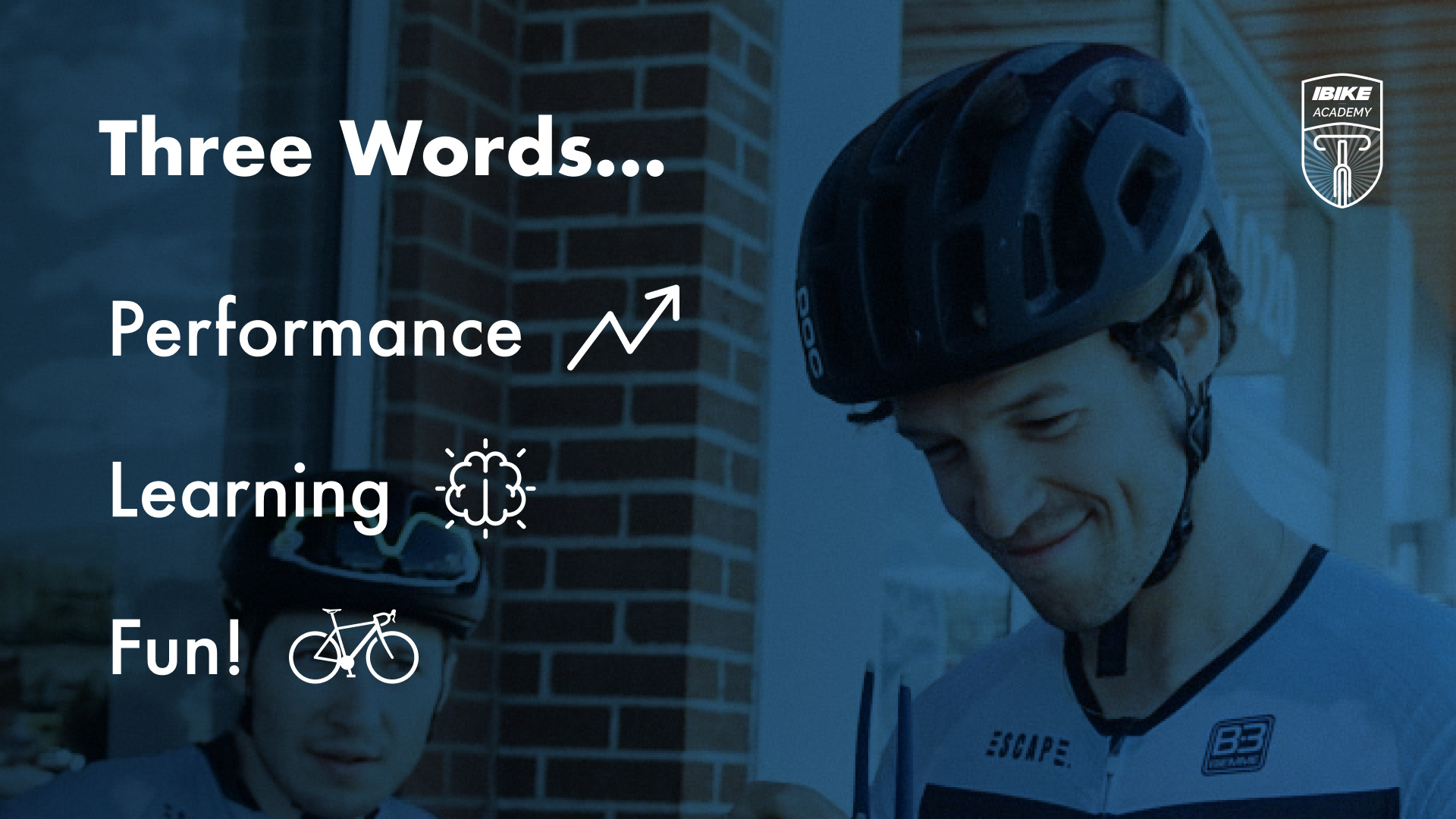 IBIKE Academy 2022 training plans:
Start date: End of April (Exact start date determined annually)
Schedule: Monday / Thursday from 6:00 PM to 7:30 PM.
End Date: End of August (determined annually)
Location: CGV | Camilien Houde
Description:
All athletes from ages 5 -22 are welcome to join us no matter their experience! 
Academy Administration
Josh Gieni – [email protected]
Jesse Cabon – [email protected]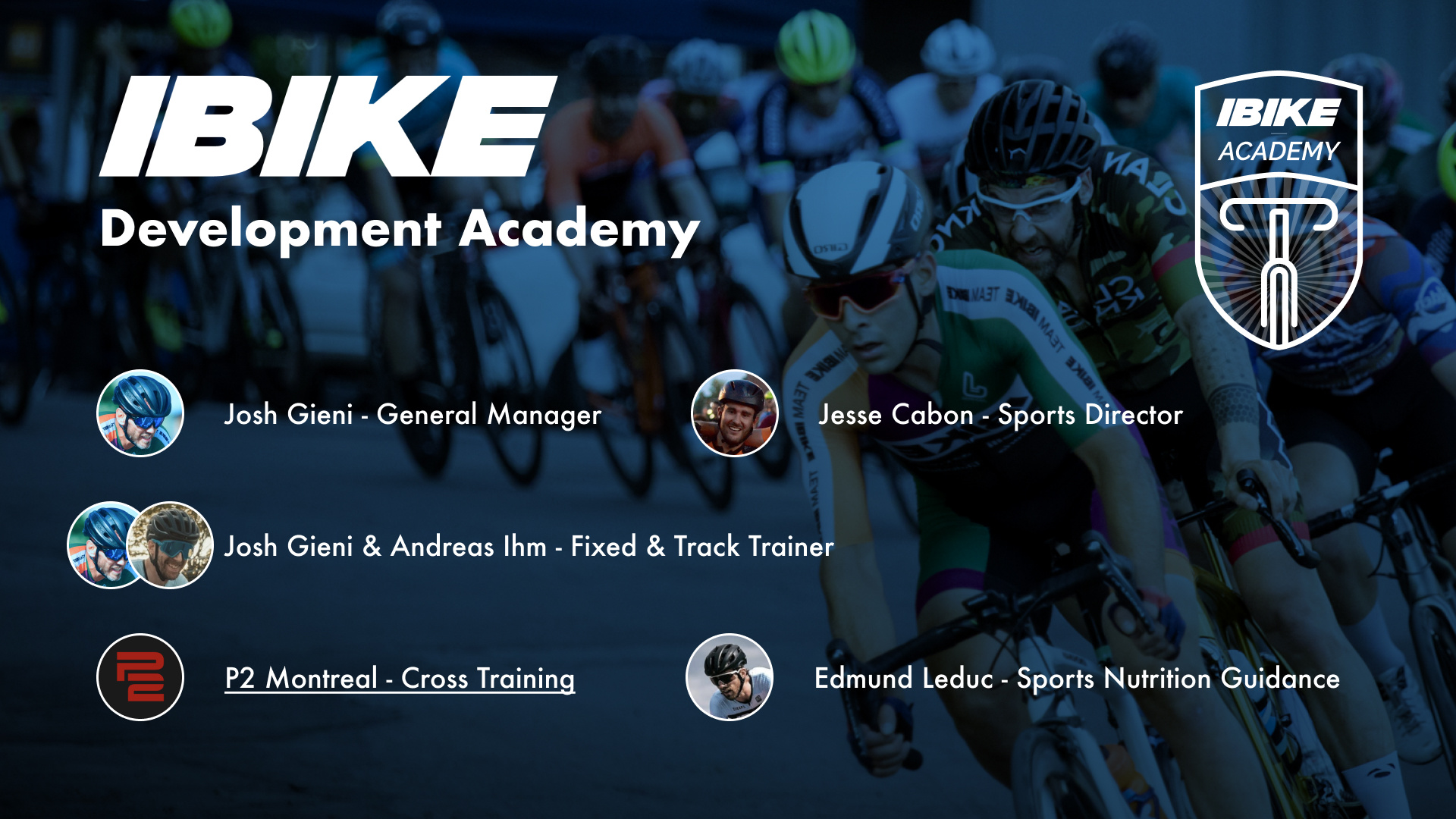 Race Calendar : exact dates determined annually - TBD
Programming:
Structured training for cycling performance: Pedalling  hard from one race to the next is often believed to be enough to realize progression.  This is a mistake.  The preparation of a cycling athlete happens in well structured stages.  Improper training can often be the an obstacle to performance.
Programming U – Junior ( 5 – 16yrs)
Fun fun fun!
The training sessions on Monday and Thursday evening will be focused on having fun. However, it is the age where the structure and methods of training need to be put into place so the athletes understand progression.
Our program breaks training into 3 well planned phases:
1. Off – season 
GPP – General Physical Preparation
The goal of GPP is to stay in shape and work on the muscles not specific to cycling. It is highly recommended that families enrol their children in other sports – swimming, hockey, skiing, cross country skiing, snowboarding and more! 
The Academy will organize family events at least once per month over the winter – maybe once per week if there is interest

core training plans will be offered to the families to follow at their own pace and schedule during the off season
CSP – Cycling Specific preparation 
A few times during the winter the Academy and Decathlon will organize trainings at their facility in Laval

A certain number of smart trainers will be available for rent – organized meet ups will be made available for Academy members

A messenger kids group will be created so the kids can start to be part of the organization for their own meet ups and training
2.  Competition
There are about 5 races per year for the youngest categories

It is during this period that the weekly trainings on the CGV and CH will take place. We will also add handling skill courses that will serve as training for the competitions of this nature.

The goal will be to ensure they start to understand the race day stress and preparation needed to ensure you arrive at the start line ready to do the best possible

Fun fun fun – the academy will promote participation and progression over performance
3.  Transition – the return to off-season training 
The focus for the younger groups during the transition phase will be to ensure they keep the long term goals in mind. The season is over and other sports will start taking time and place but next season needs to be on their radar as having purpose

Ensure that the athlete understands the importance of and maintains an equilibrium within their training lifestyle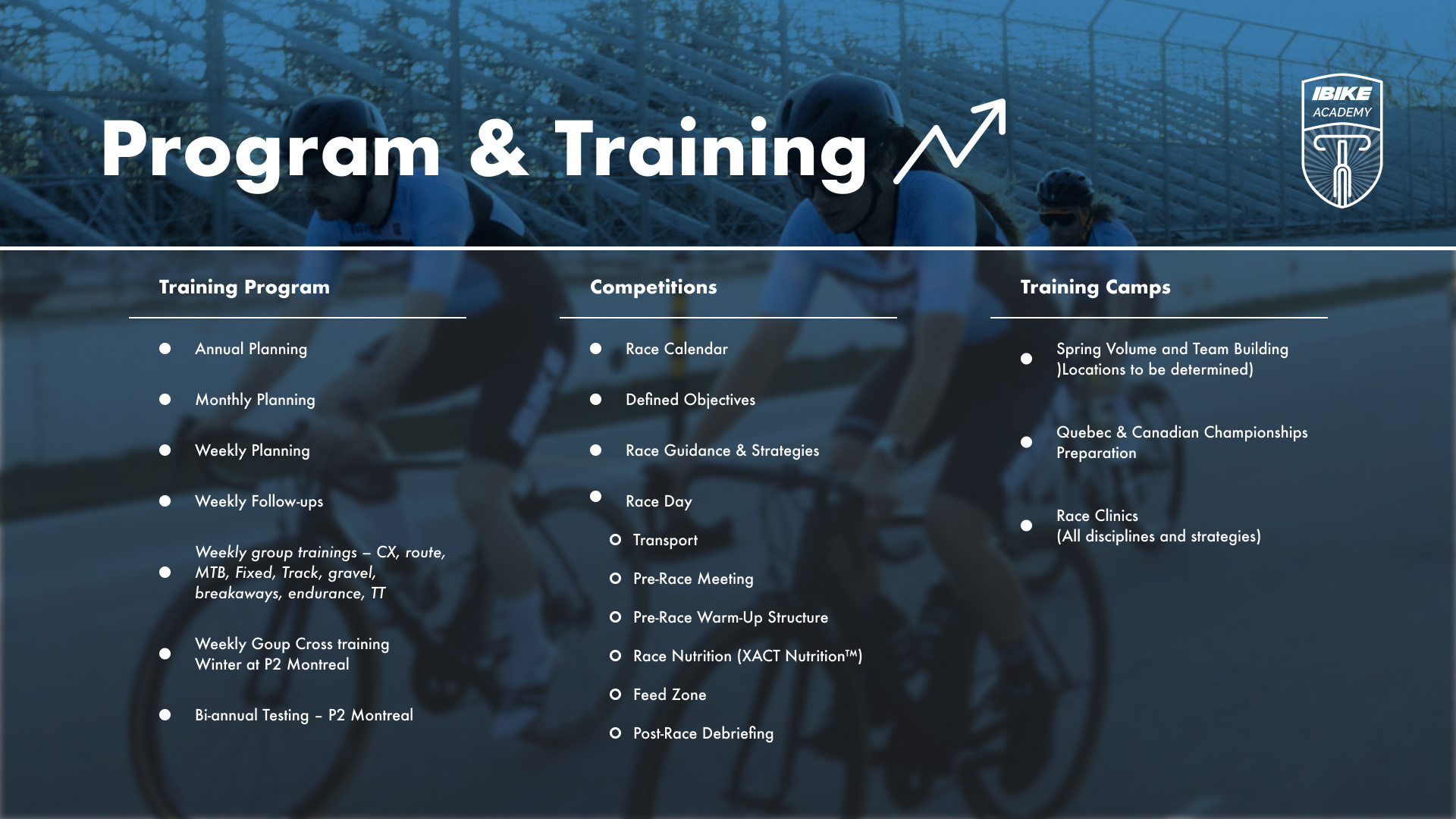 Programming - Junior & U23  
Our program breaks annual training into 3 well planned phases:
1.  Pre – season / Off – season – 2 periods
GPP – General Physical Preparation
The goal of this period is to prepare the basic shape and fitness of the athlete. Mobility and strength training that will create a foundation and base for growth and development. Any good structure has to have a solid foundation. As the foundation develops we will be able to add weight and difficulty to the training to ensure growth and gains can continue.  
This general training will occur primarily during winter and the off season. The addition of other sports and activities will be encouraged to ensure a well balanced athlete can develop. Swimming, cross country skiing, snowboarding, badminton, and volleyball are a few examples of off season training and sport. 
There are 2 essential areas of development during the GPP: 
general physical conditioning and form

in direct / supportive muscular development and mobility – hips, core, lower back, hamstrings, ankles
CSP – Cycling Specific Preparation
The second period is cycling specific preparation. The volume and intensity of the time spent in the saddle will increase in a structured format. There are multiple power zones that can be targeted and developed. Cyclist will go through a series of test to create base line data from which a personalised training plan can be built.
2.  Competition
Yearly training objectives are based on the biggest competitions of the year which are usually provincial or nation level races. As the athlete approaches the dates of competition the type of trainings will adjust accordingly. An athlete want to be in top shape for the big race day meaning that fatigue has to be considered in connection with the heavy training needed leading up to competition days. 
The goal is to managed the training volume and intensity in a way that allows the athlete to have a peak fitness level on competition weekend. After a hard training block and race weekend, it is as equally important to ensure the proper rest is taken before a new training block or plan is put into place.
Vacation from training is mandatory. Burn out, deep fatigue and loss of passion can all happen as a result of over training. At the end of a hard season it will always remain important to take a well deserved break and enjoy other things.
3.  Transition 
The return to a regular momentum after long blocks of training is the best way to ensure all the training will pay off. The time it takes for the body to fully recover from a higher level of training volume is more substantial than one may think. Taking those extra days off are essential to development.
Simple periodization – The cycling season can be broken into cycles based on competition objectives. If the goal is QC Championships usually held in August, the cycles of training can be broken down as follows: This can serve as an example of periodization built with single objective in mind.
Simple periodization

Organisation

December - January

GPP – General Physical Preparation

group training at Décathlon once per week
one home-trainer training per week
doing winter sports

February - April

CSP – Cycling Specific Preparation

Specific home trainer plans
Winter cycling – fatbike, commuting
Group training in spring
Endurance/volume camp early March
One group training per week

End of April - June

First competitions:

Course rhythm – peleton riding
Rider evaluation and coaching
Specific stage end of May
One group training per week

July - August

Major Objectives:

Mardis des cyclistes
Canadian Champs
QC Champs
One group training per week

September - October

Fin de saison, objectifs secondaires :

Stage CX
gravel, fondo, cyclo-cross
One group training per week

November

Transition – Rest - Vacation
Materials :
Year one will signify a major Crowdfunding campaign to create the start up funds needed for the club infrastructure.
All years to come will certainly have new campaigns to help cover some of the foundational costs associated to the sport.
Vision 2026: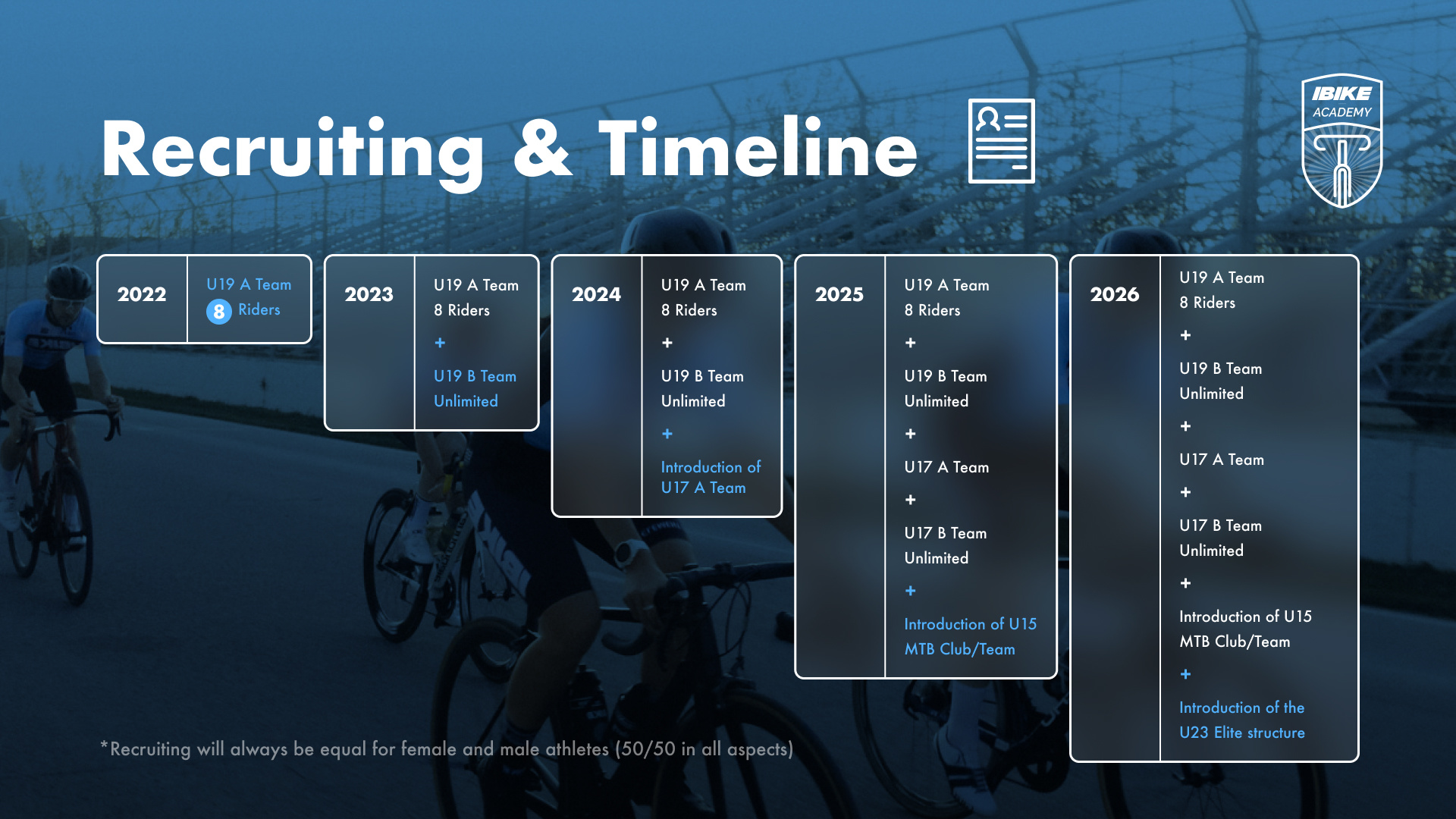 ***Financing funds***
The Academy will be organizing another fundraising campaign in spring via a draw.  A bike is graciously being offered by Decathlon Canada as a grand prize for the draw.  Every family of the Academy will be required to buy and sell 20×10$ tickets for the draw.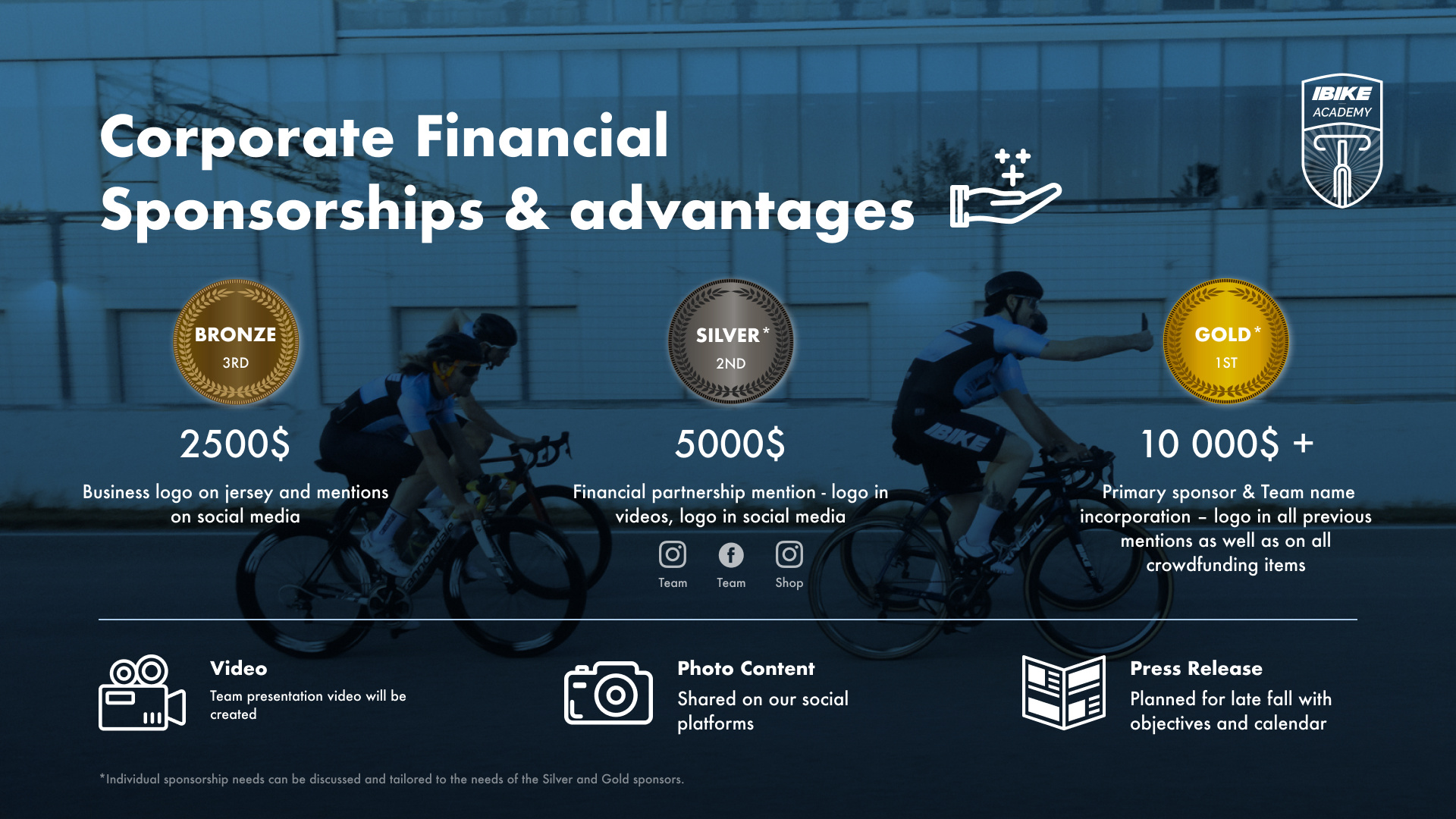 Volunteer culture
The function and existence of the Team IBIKE and Academy is based on the implication of the memebers. Without the implication and volunteer hours of the team riders the team itself would not exist.
The administration of Team IBIKE and Acadmey will therefore be implimenting a signed agreement that every member donate a certain amount of time to ensure the sustainability of the program and services we will continue to offer and develop.